This is how we do it
With over 25 years of experience in the industry, we know a thing or two about creating a successful staffing partnership:
It's all about you
Our mission is to find the right talent for you, every time. To do so, we consult with you to explore your requirements in-depth and offer creative – often unexpected – ideas to meet your needs while keeping the bigger picture in mind.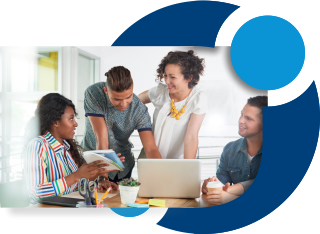 We're always networking and building our network of top talent. When it comes to finding the best fit for you, our process includes all of the steps you would expect in your own hiring plan, including face-to-face interviews, skills assessments, and reference checks. Our talent have impressive portfolios of work to help you make your final decision.
We take care of our people
Digital People covers all employee costs. To save you time and money, we assume responsibility for:
Weekly payroll administration and funding
Federal, state, and local tax payments and filings
Unemployment insurance and claims management
Workers' compensation insurance and claims management
W-2 filings and distribution
Employment verifications, wage verifications, and garnishments
Labor regulations and compliance
Holiday and vacation pay
Health benefits
Labor and usage reporting
Breathe easy
Choose Digital People with complete confidence and zero risk. We are so confident in our service delivery that we offer an unconditional satisfaction guarantee.
Ready to partner with us?
We take pride in building long-term relationships with the companies we support. Whether you have on-going staffing needs or are interested in keeping up-to-date on market trends and salary surveys, we want to partner with you.
Ready to get this party started? Let's talk!